"Hey Dominika and Dario, what is the best mode of transportation to explore the island?"
This certainly is one of the MOST frequent questions we get from our guests. The problem is, there is no one size fits all answer to it. 
We ALWAYS try to give our guests the BEST Malta experience (see our post about our mission for more info) and that might mean something DIFFERENT for each of our guests.
So, instead of telling you to do this or that, let us just list your main OPTIONS with their pros and cons so you can choose what's the best for you, your travel style and ultimately also budget.
1. PUBLIC TRANSPORT
The most inexpensive and simple way to get around is naturally public transport. While taking a ferry from our place (located in the Three Cities) to Valletta is the most convenient and beautiful way to get to the island's capital, the vast majority of public transport routes are operated by buses and that is a whole other story. But let's start with PROS:
Prices – public transport is relatively cheap. You can save even more, if you pre-order the Tallinja card.
Good connection across the island – with most routes going from Valletta, you are pretty well connected from where we live. After hopping on the ferry, you can be promptly transported to the main Valletta bus terminal and from there go virtually anywhere…
Local-like experience – while most Maltse drive and it's rare to see them on the bus, you certainly get to explore the island's in and outs while using public transport – as it goes through each of the island's various tiny villages, where taxi or google wouldn't take you
But as romantic as that may sound, it has its CONS as well. Quite a few in fact:
Time – public transport takes 50% or more to get from A to B than any other mode of transport. 
Reliability – forget timetables. While sometimes you may get lucky to find a bus that runs on time, this is not guaranteed.
Comfort – many bus routes can get crowded, so in peak season you may and up being squeezed in the back of the bus literally suffocating in between your travel buddies.
Accessibility – while there is indeed a good coverage (see above), there are places which are either not accessible by the bus at all, or the bus connection is very sporadic. So if holidays off the beaten path is your thing, then you will need to be ready to walk a lot.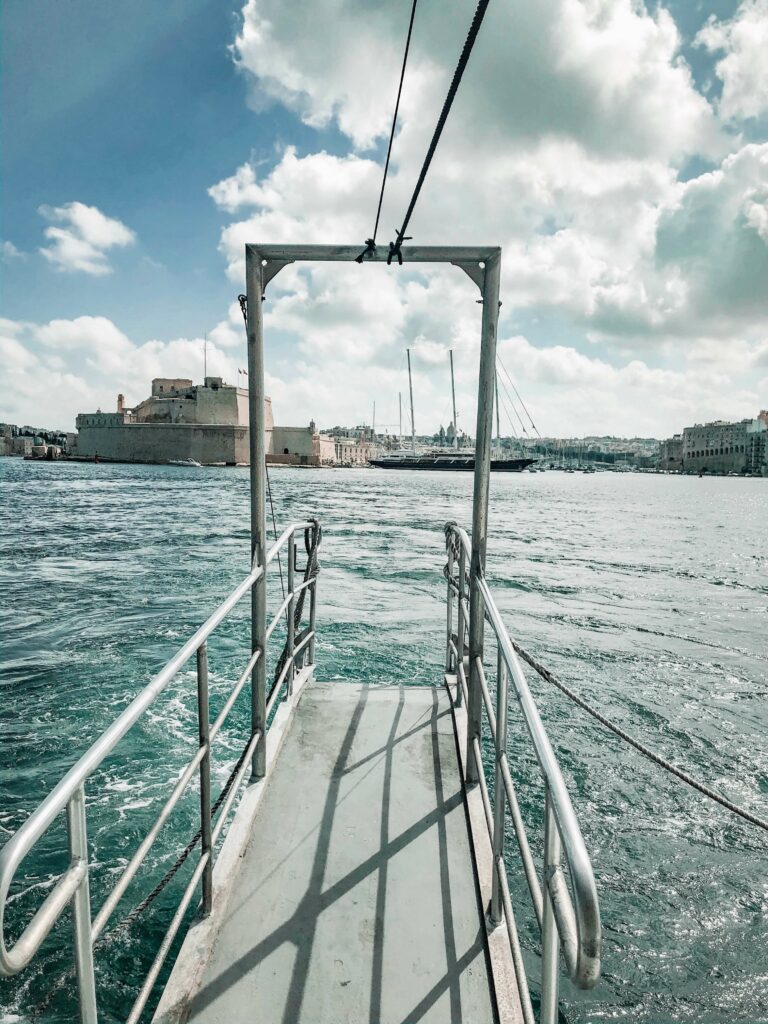 2. CAR RENTAL
On paper, car rentals are a great option. So let's start with obvious positives:
Price – There are a lot of rental companies on the island, so we can say they are relatively inexpensive 
Practical – in a car you can get from one side of an island to another within an hour
Comfortable – you can squeeze in the trunk all your stuff for the day as well as the beach supplies (even that COMPLIMENTARY umbrella we offer for free to our guests)
Flexible – with your car, the world is your oyster and you have no restrictions (errr almost no – read below) to explore the island
But all of this comes with some limitations you want to consider:
Price – While the rental prices are quite low, you always need to consider the deposit which is usually high.
Insurance –  so if you want to lower your liability (aka deposit) you can purchase extra insurance. However, such insurance cover is usually costly and may double the whole amount
Left hand side – you should certainly consider, that you would need to drive on the LEFT side and which takes time to get used to
Malta drivers – and then, when you manage to get used to driving on the left, you embark on the road and experience the maltese drivers. Seriously, they are a chapter on their own. Driving style in Malta is random (to be polite), traffic rules are mere recommendations at best and with registering almost 2 card per person, traffic jams are a norm.
Parking – all of this comes with another downside – parking. Whether it is a beach, a historical Valletta or any other place you want to explore, during the peak season, you may find it hard to finding free (and sometimes even paid) parking .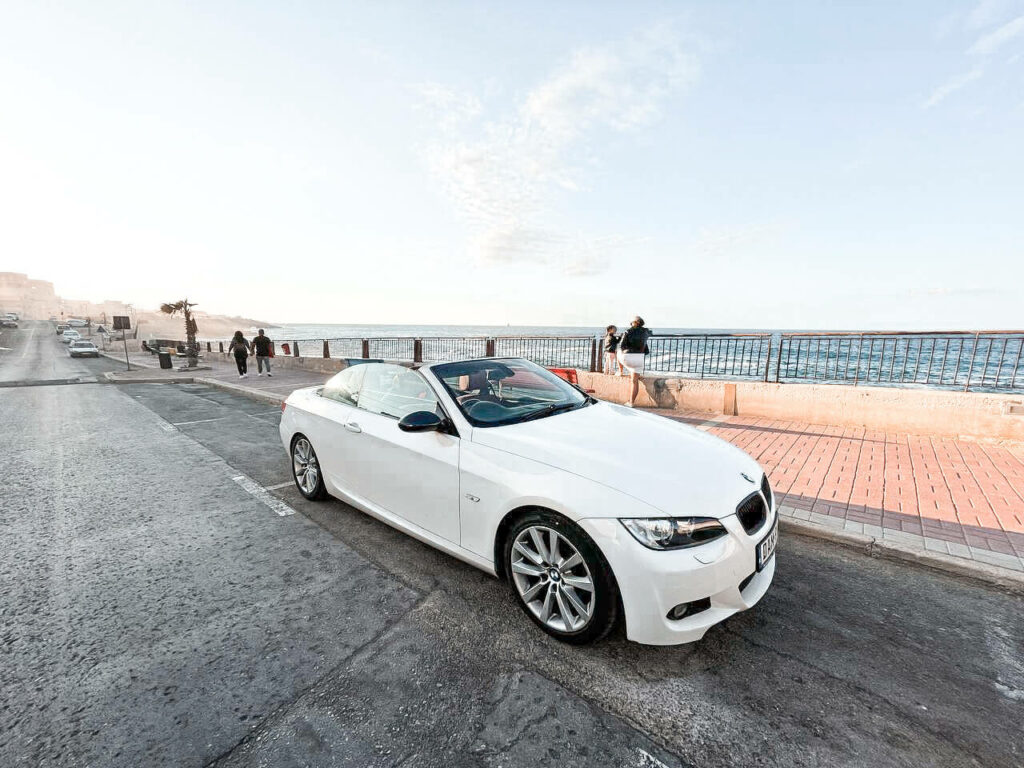 3. MOTORBIKE AND QUAD BIKE
Offering all of the pros of the car rental PLUS some extra, like more flexibility when driving and parking and even lower costs, motorbike or a quad bike seems like THE option. Before you commit however, consider also one important downside. 
Safety.
Surprisingly, Malta is not exactly a bike friendly place. The drivers are aggressive and traffic is random. When renting a motorbike, safety IS a concern to consider. BUT as there are currently less tourists around due to the pandemic, some of our guests had amazing time on their bike and felt safe!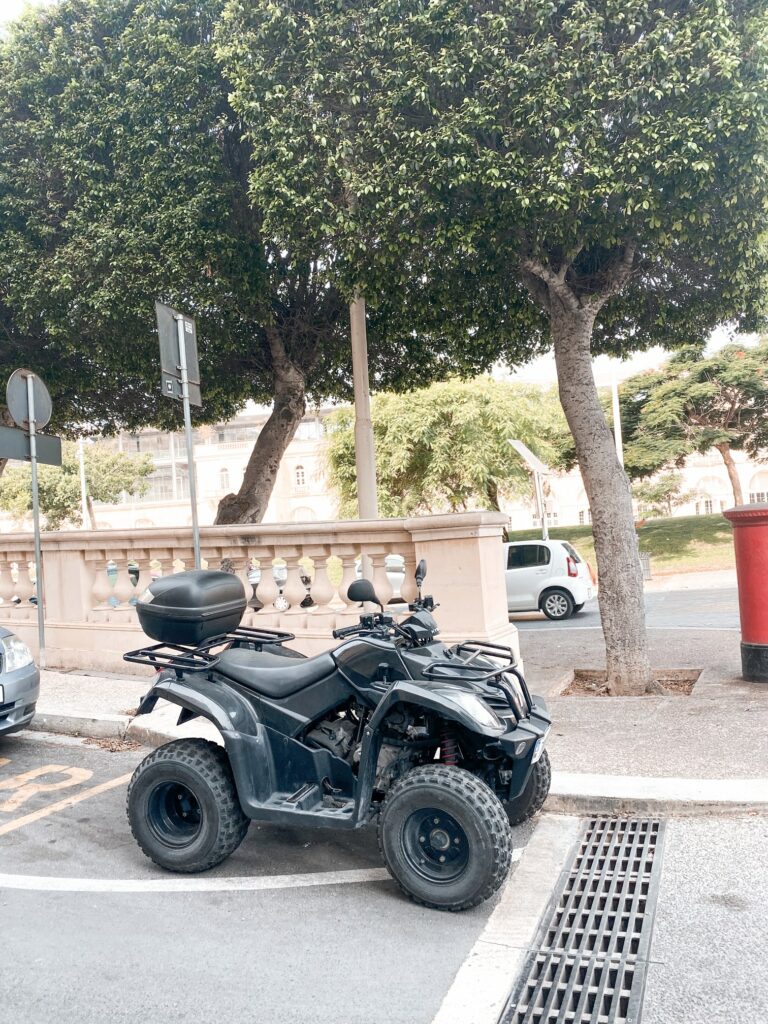 4. TAXIS
If you would like to take it easy and only explore handful of places, then taking a taxi is an option. The pros certainly are:
Availability – there are numerous online/app based services like E-Cabs or Bolt available and they are fast and reliable
Flexibility – no issues with contracts, deposits and insurance. You may overpay per ride but overall have a greater peace of mind
Accessibility – you can get anywhere you want and at any time easily, regardless of parking
But as you can imagine, the major con is the price tag. Prices did go down with the introduction of new service providers, but if you plan to use a taxi multiple times a day, then this may be well out of budget …
5. ON DEMAND / VEHICLE SHARING
Recently, on demand/vehicle sharing services gained popularity in Malta. A good example is Go To. (Clickable LINK)
It comes as no surprise; such service allows you to enjoy all of the benefits of a car, but on your terms and with no strings attached. You can choose from cars or mopeds, which are available in various locations around the island, allowing you to get where you need while paying only for the time you actually use the car.
The PROS of these services are certainly the costs as well as the flexibility. Another plus is that the Go To has its own dedicated spots to park…
But, this is also its downside. From the experience of our guests if the dedicated spots are occupied, you end up having to drive around and paying while not being able to return the car.
5. BICYCLES / SCOOTERS
Looking at the map and the size of Malta, it may look like the bicycle or a scooter is a great way to get around. But, a map may not 100% represent the reality, non-existent bike lanes, making this mode of transportation not suitable for island-wide travel.
Renting a bike or a scooter to explore a particular location, like the Three cities, Valletta or Sliema is certainly doable. There are various bike and scooter sharing services you can use and even pre-order via app.
But this certainly does not make a suitable option for actual transportation. 
OUR Conclusion
There is NO one size fits all.
 It's pretty safe to say that every guest we had chose something different. 
So, our MAIN advice is – consider what you want to do in Malta during your holidays and then decide.
If you are staying only for a short period of time, and are planning to see the Three Cities, Valletta, and a couple of other places, while you are not planning to do big grocery shopping etc, then maybe a combination of public transport and taxi could be the best.
On the other hand if you are staying for a week or longer, want to have an adventure, do some grocery shopping and also want to fully explore the island then renting a bike or a car could be the best way.
In any scenario, we are always available to help you decide, work with you on the best itinerary and also recommend our tested service providers. Just reach out!