Hand on heart, unlike other Mediterranean islands, Malta was not endowed with tons of sandy beaches. While rich in culture, history, natural beauty and crystal waters, sandy beaches are not the MAIN reason you should come here.
This however doesn't mean there are none. You just need to look a bit closer at what is available. 
1. Golden Bay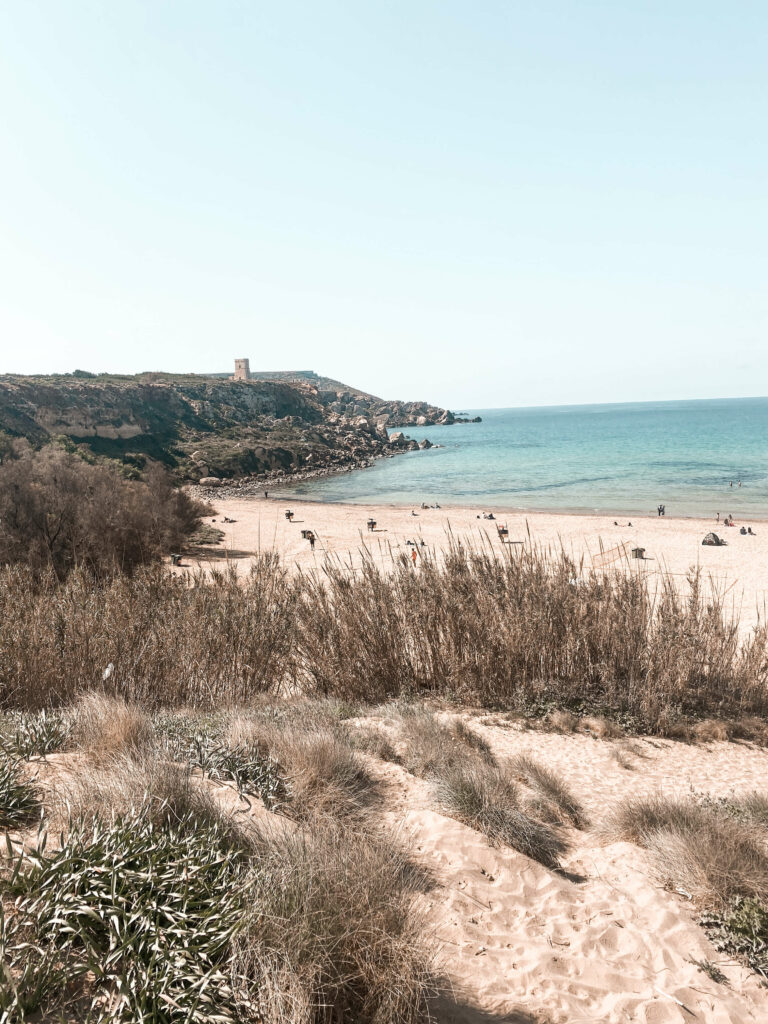 Probably the most famous, located on the North West of the island. It is accessible by the Bus from Valletta.
You can enjoy golden yellow sand, a beach bars and restaurant as well as rent some sport equipment such as paddle board, kayaks, etc..
On the downside, it tends to get very crowded and noisy – esp. during the top season and weekend.
Pro tip: come early in the morning during the week. 
2. Riviera Bay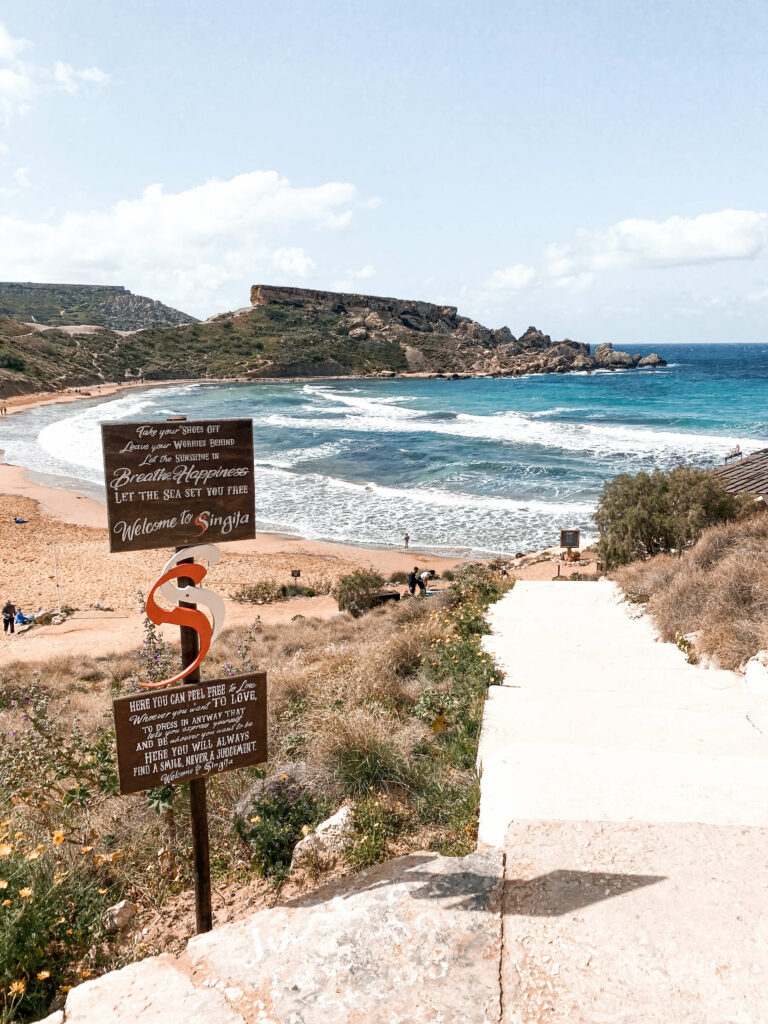 The younger sister of Golden bay, nested in the neighbouring bay, Riviera bay is our favourite.
From beautiful nature and scenery, to orange sand and the most magnificent sunsets, this place has all you need for a wonderful summer day. And some extra.
No wonder it is also super popular and unfortunately it likewise gets crowded. So, let us repeat – come as early as you can.
Pro tip: Try one of numerous running/hiking tracks around. For instance try to climb up above the bay to enjoy the most amazing views or run up and down the stairs (you will see which ones we mean). The bath afterwards will taste extra sweet, we promise.
3. Mellieha Bay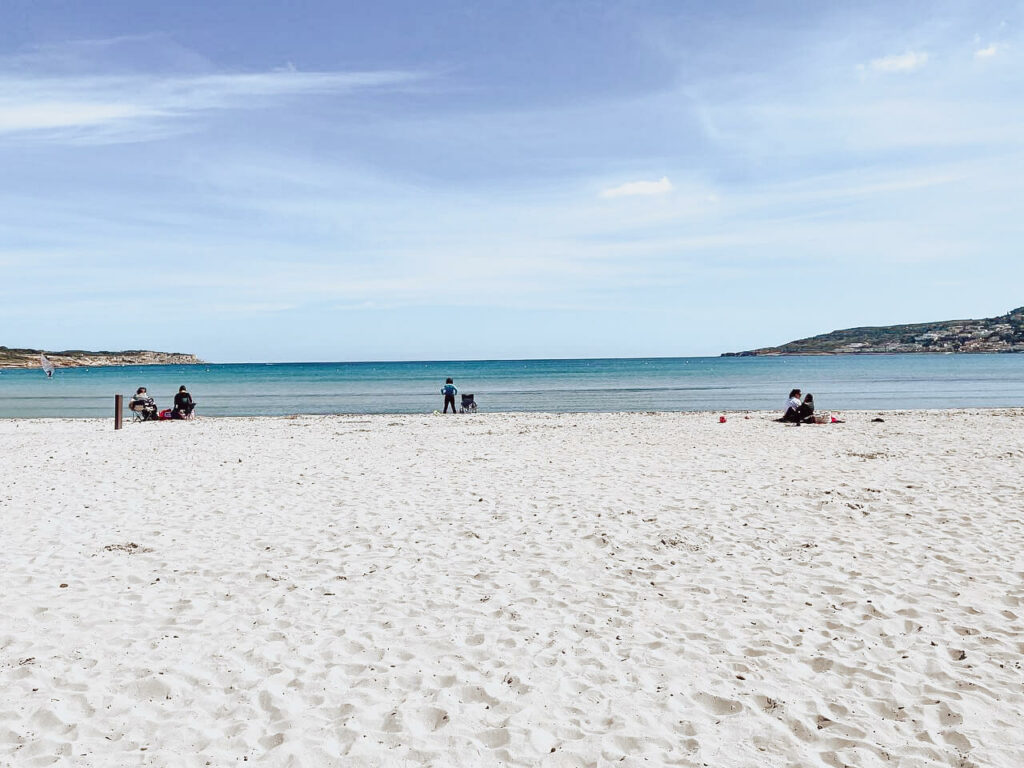 This is the biggest sandy beach of the island. Popular esp. for families with kids, due to its shallow waters and convenience due to available parking and numerous of bars, restaurants and water sport options.
In all honesty, not our cup of tea, but on a positive side – it is very well accessible by public transport!
Pro tip: Mellieha bay is a great choice on a particularly windy day. As it is somehow sheltered normally, you can still enjoy the sea and lay on the sand with no issues.
4. Little Armier Bay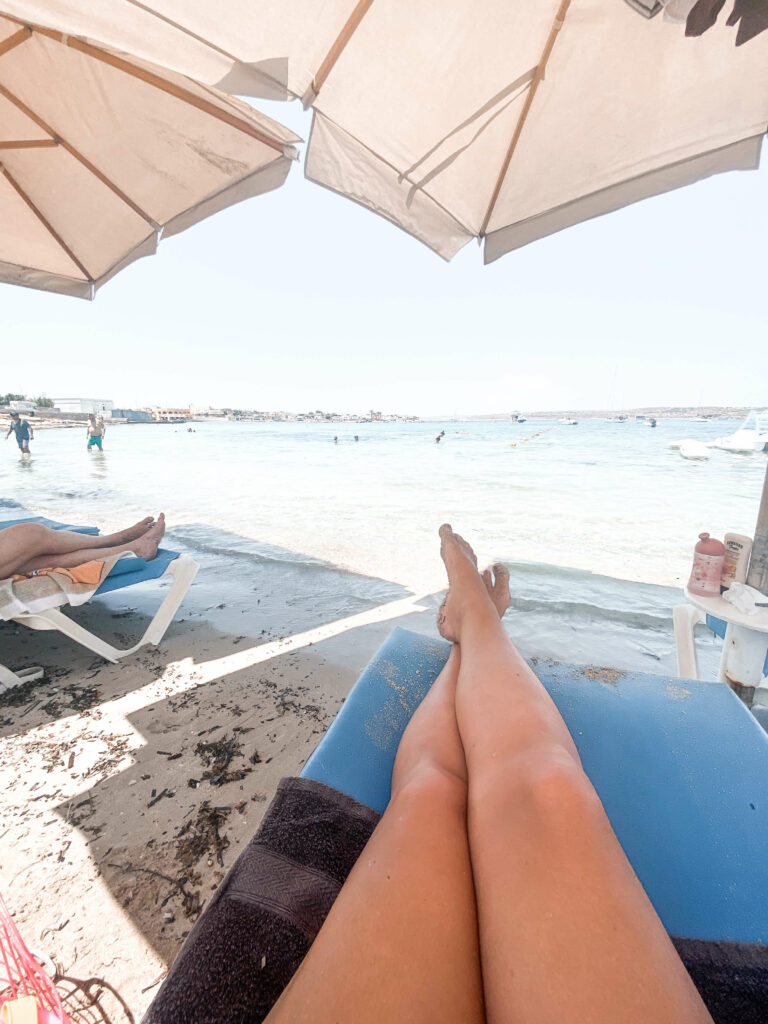 Definitely a gem. Tiny sandy bay, located on the north, overlooking Comino. On a calm day, when there is no wind, you can even enjoy crystal clear waters similar to blue lagoon. However, on the downside, not accessible easily without car/motorbike
Pro tip: In the lido – Tortuga Beach – book a sunbed and umbrella and ask them to be in the first row. Opt in for a sunbed + lunch combo if you are not particularly picky about food and on budget.
5. Paradise Bay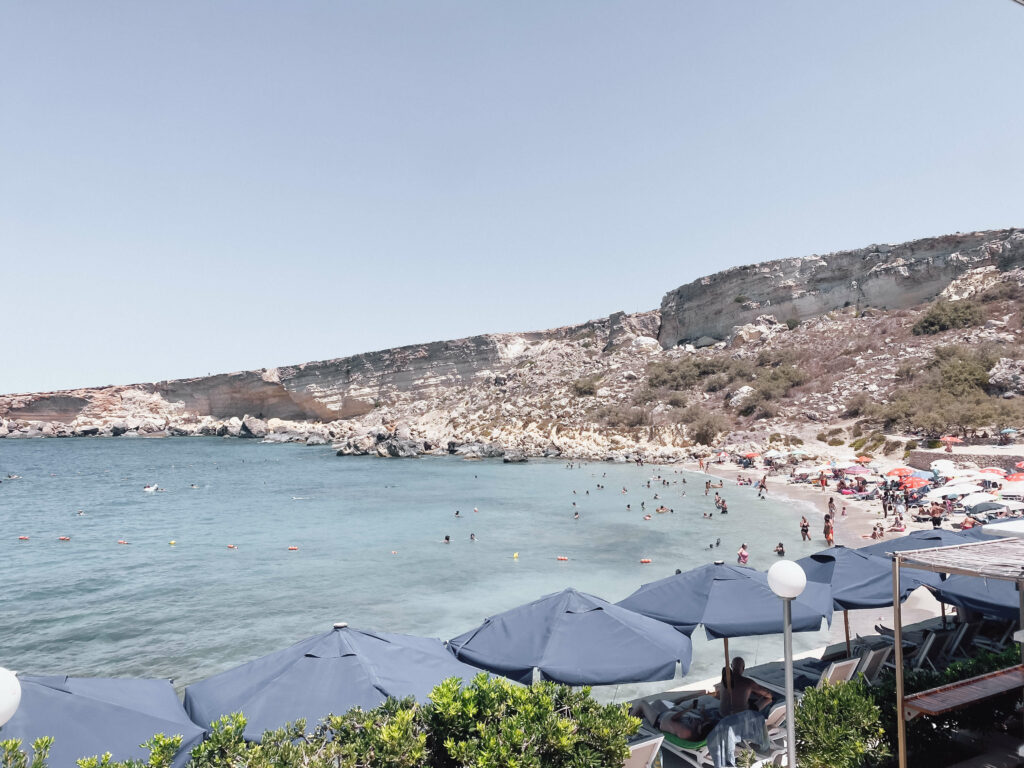 Located likewise on the north, just 5 min drive from Little Armier bay. This beach had to grow on us but we are definitely fans now. Less people, beautiful water and soft sand, all nested in Mediterranean nature… But again, all of this comes with a bit of trouble to get there. You would certainly need a car/motorbike.
Pro Tip: Grab a lunch in the restaurant (there is only one) and enjoy the beautiful views.
6. Pretty Bay – Birzebuggia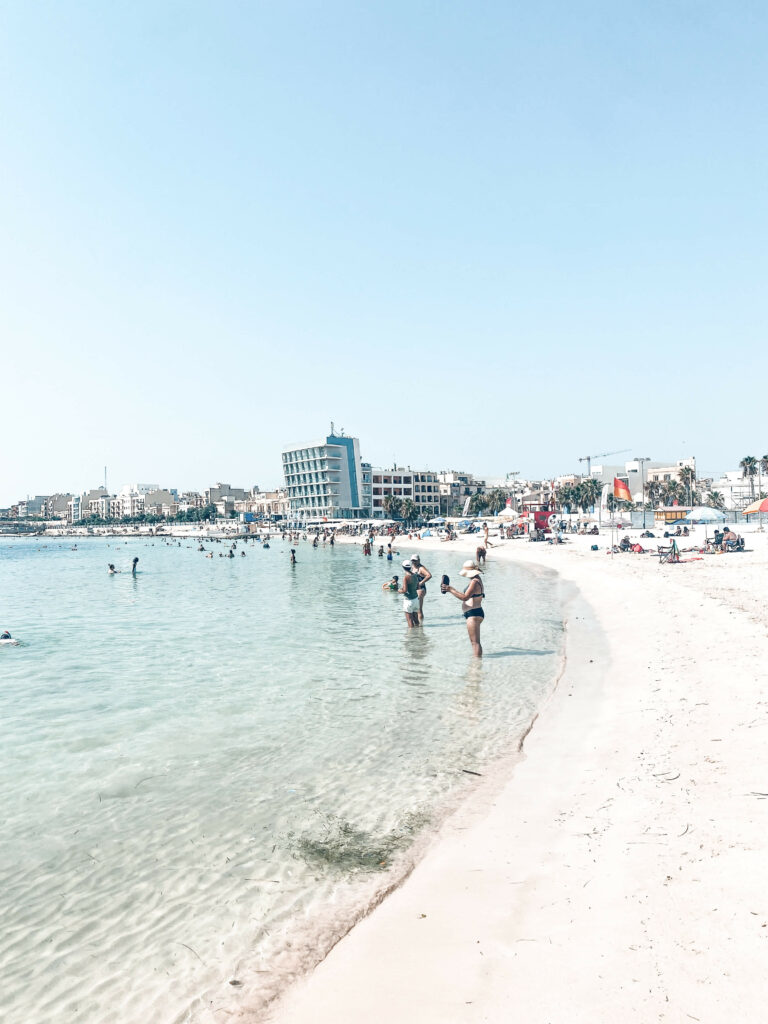 Located on the south, on the paper this beach has all you can ask for – from soft light sand, shallow clean waters to a convenience such as restaurants, supermarket and shops. It even features a small park. 
But there is one BUT – namely a big Freeport right in front. If pristine views are your "must have" this may not be your place.
Pro tip: Compared to other places on the island, sunbeds and umbrellas are very cheap here. If you come early, you can get a spot in the first row and enjoy prime spot for a great price!
7. Rinella Bay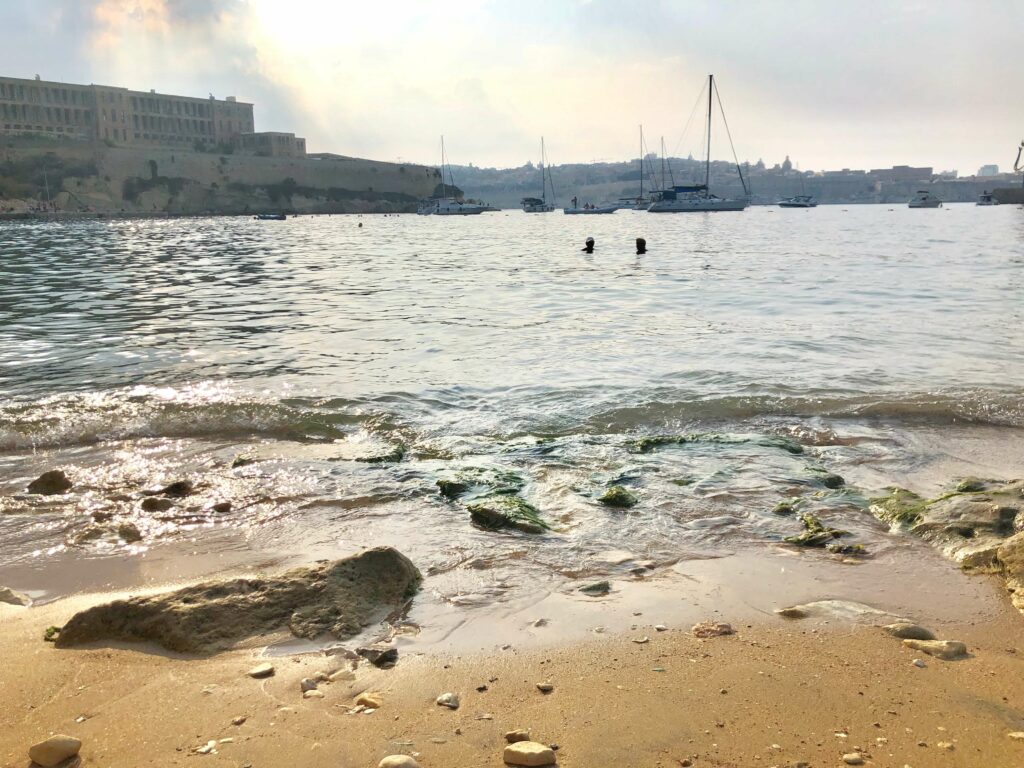 Tiny beach, overlooking Valletta. Certainly not a place to stay all day or write home about. But, on the other hand, super handy for a quick dip if you are in the area.
Pro tip: Our Place is just 15 minutes walk away from Rinella. Often, we jump in the water after morning runs. And then indulge guilt-free in the breakfast. 
Like we said, Malta is not exactly sandy beach destination. But as you could see, this doesn't however mean you cant enjoy island beach vibe. If you want to get the most out of these places – check out our other blog post – 5 Top Malta Beach Hacks  or, if you are up for an adventure, try any of our favourite 5 Outside-the-box Malta beaches you will Love.
*Cover Photo by Polina Kovaleva from Pexels